TO THE GERMAN FLYING CORPS:
Rittmeister Baron Manfred von Richthofen was killed in aerial combat on April 21st, 1918. He was buried with full military honours.

From the British Royal Air Force
Manfred in 1916:
Manfred, on 21 April 1918, an hour after his death in combat: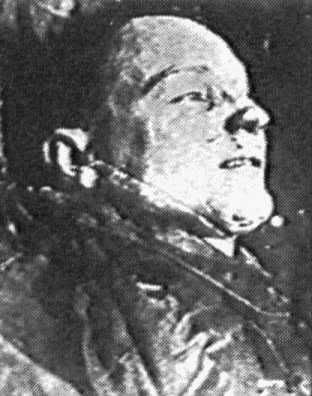 (A small tribute, from Hungary with love.)
A small boy lived in the country, long ago,
Who loved to hunt for sportsmanship and fun:
No pheasant, boar, wild bear or doe
Could flee his sharp blue eyes or his gun.
His aim was true, his horsemanship fine;
As he roamed his folks' woodsy unspoiled heaven.
His father, a proud soldier, made him join
A military academy at eleven.
A mindless obedience to the Fatherland
Was drilled into him, til war began.
He joined the first regiment of the Uhlan
A lancer lieutenant at twenty-one.
Deployed near Russia, away in no man's land,
A scoutsman too far from the line of fight,
His mission? Serve as quartermaster's hand,
And by and large no chance to fight in sight.
Like many officers of the cavalry,
His hunting blood was up at the affront.
"I didn't enlist to collect eggs,"
said he,
and promptly was transferred to the front.
At first a petty in-flight observer and an aide
With no hand at the wheel or gunnery:
"I didn't join the air corps to play peep"
, he said,
And trained as war pilot at twenty-three.
He learned to chase his quarry, hit and hide,
And followed every hunter´s golden rule:
To get all the advantage on his side,
and always finish prey off - or be a fool.
His hit squad struck and baffled the enemy,
"Richthofen's Flying Circus"
, the Allied's bane.
His brother's yellow Albatros, his own red Fokker III,
Voss' tan-mauve, and Göring's blue triplane.
Le Diable Rouge
, called him the Brit,
As one by one he shot their aces down:
Hawker, Knight, Farquhar, Raymond, Smith;
The Great War's highest score at eighty-one.
As Brits' survival chances dropped to one-third
They set a prize on him, alive or dead:
Their nemesis, their target most preferred,
Until one day they shot him in the head.
Though blinded by his wounds, he did fly back
And landed despite shrapnel in his brain.
"I'm not dead yet and I won't be land-stuck!"
Three weeks later, he climbed back in his plane.
The Brits were disbelieving and bemused
To have their foe skylarking once again.
The German High Command was not amused:
Their hero was worth more alive than slain.
They told him to quit flying and stay on land,
And keep from now on out of danger's way.
He ignored orders to take up ground command:
"If others can't choose not to fight, why should I?"
And although scarred for life, he flew again.
Haunted by headaches, all joy gone sour:
"After each fight I feel nothing but pain,"
He wrote – the Reich's tragic hero at twenty-four.
On April 21, east-wind, foggy and gray,
He flew too far across the enemy line;
While pursuing a beginner, unseen Archie
Shot him through the heart at twenty-five.
On April 22 the Allied buried him
And mourned him like the best among their own:
Full military honours, and the first ever
Missing Man Formation to be flown.
He never lived to see his Reich surrender,
Or rise again to lose another war:
Unmarred, his fame lives and he's remembered
Around the world by every flying corps.
----------
I´ll be in Wiesbaden til Monday night, to visit his grave on his 90th deathday.